Dave Nelson Construction, LLC
I have been a NC Licensed General Contractor for over 25 years with 15 years of this time devoted to building over 40 homes on the island of Sunset Beach. I am the only practicing Licensed General Contractor that works and lives on the island exclusively. This enriching experience has taught me the objective of building a steadfast, extremely sturdy coastal home, with the utmost attention to detail and appearance, personally overseeing each step to ensure the job meets my high standards while attending to a fiscal responsible price. Please notice that I did not say "cheapest" as I believe "cheapest" cannot be achieved with the standards that I maintain. Building on an island is not like building anywhere else. We have an extremely harsh environment which requires knowledge & experience. Building codes cover the major things, experience and an obsession for quality is what shines through after a tropical storm or after the 1st season of the ocean's salt spray. I am a firm believer in delivering a product better than what is expected of me. More oversight, advanced materials, superior tradesmen and overall excellent craftsmanship is what I strive to provide so that I, as a builder, neighbor & island businessman can be proud to say "I built that home" and you can be proud to say, "We have a Dave Nelson Built Home." I look forward to answering any questions you may have about building on the island of Sunset Beach & I would appreciate the opportunity to build your Island Dream Home.

- Dave Nelson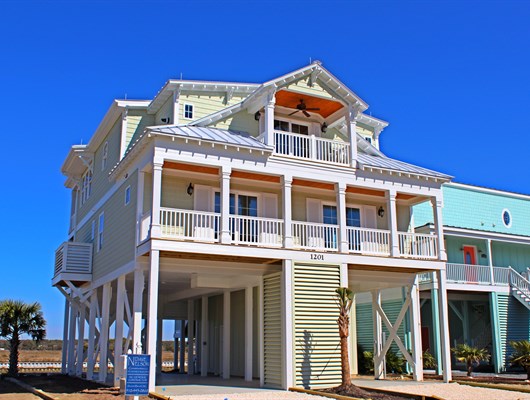 Custom Canal Front Evans House
1201 North Shore Drive, Sunset Beach, NC 28468

"This Canal Front, Sunset Beach Island Home custom built for the Evans family is located on North Shore Drive East at the very end of Cobia St. Dave Nelson worked with them every step from assisting in the selection & purchase of the lot as their Sunset Beach Island Real Estate Broker to the design and building of this gorgeous home. The details and upgrades in this 2600 sq. ft. home are impressive and inviting. The whole family is now enjoying the 4 bedrooms & 3 1/2 baths in this reverse floor-plan home with expansive water views and a spacious & bright interior with tons of Island sunlight warming the home. The custom upgrades and distinctive design elements blended with quality construction using high-grade materials, make this STUNNING Sunset Beach House a show-stopper! You should see how beautiful this Beach House is inside and out! With over 40 homes Dave has built on the Island of Sunset Beach, this is definitely a favorite.This Coastal Cottage is a true charmer with direct water access, walking distance to the beach, and unobstructed water views. Curious on how much it costs to purchase a vacant lot & build on the island of Sunset Beach, NC? Just call Dave @910-443-0868. No high pressure sales here, we promise."
Testimonials
I used Dave as both my Real Estate Agent and my Contractor for a new house. Dave was with us all the way through the process from finding the right lot and building one of the best designed and best constructed houses we have ever owned. His eye for detail is second to none. I would recommend Dave to my closest friends and he would be the only contractor on my list, should I ever build another house in Sunset.


Dave goes above and beyond to make YOUR dreams come true. He has a wonderful artistic flare and can envision exactly what you want, then he makes it happen. He is easy to talk to and gives you ideas that improve upon your own vision. He is currently building our house and we LOVE him!!!
Dave Nelson built our beachhouse at 431 38th street in 2002. Dave's experience as a long time realtor and resident on the NC coast allowed him to design and build a houses that caters to needs of coastal living. Our house is as nice today as it was the day we moved in.

Dave uses the best quality materials and best contractors available in the area. We continue to buy materials and leverage all of the contractors who worked on our home for any improvements needed. They all are very nice and great to work with and reliable.

If I had to do it all over again Dave Nelson would be the only builder I would consider to build our home on the coast.

We consider Dave our friend, neighbor and builder in that order.
Dave Nelson built a wonderful home for us on Sunset Beach Island in 2004. We have been very pleased with the quality of construction and how quickly he was able to complete construction for us. As well, we have maintained an on-going relationship with Dave and he has always been available to us for any questions that we've had along the way. Dave has an incredible amount of knowledge as it relates to building homes and the real estate market in the area.
Should we be building another home on the island of Sunset Beach, we would be engaging Dave Nelson. We were in essence on time, on budget and filled with delight.