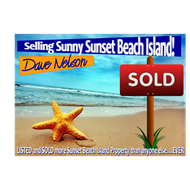 DAVE NELSON just SOLD 2 West End SUNSET BEACH ISLAND HOMES right next door to each other!
SOLD NEIGHBORING HOMES! New Island Owners are also new neighbors and can start Island Life at Sunset Beach, NC at the same time. These 2 West End Beach Homes located at 405 32nd Street and 407 32nd Street are officially SOLD! If you desire a Beachfront Bargain this close to Sunset Beach's fabulous west-end, Bird Island, Calabash & Myrtle Beach, SC, just Call or Text DAVE NELSON 910-4430868.
We hate you missed both of these opportunities, but you've got some great Island Properties to choose...
Read More »